Sometimes a video doesn't work the way we want it to. Here are some troubleshooting tips to try to improve your experience!
Video Players
We use two video players on MusicplayOnline: Primary and Alternate. If one video is not performing properly switch to the other video player and see if that works better.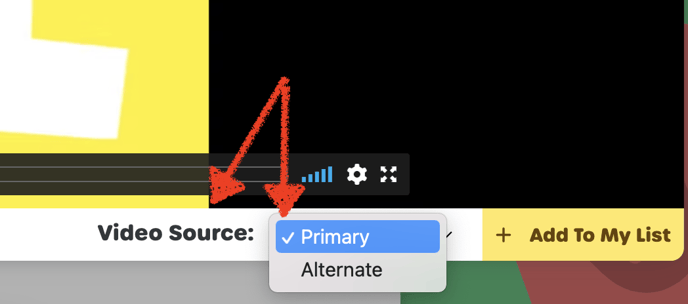 Common Video Playback Issues
Videos Are Blurry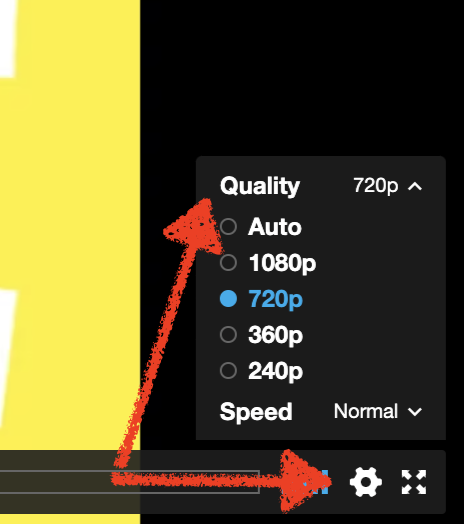 Try changing the quality to a higher setting, as 360p option is compressing our original videos. We recommend setting your videos to 720p or 1080p by clicking on the gear icon in the bottom right corner.
If you are using the alternate video, you will have to start the video before you see the small gear icon. Adjust the settings under 'Resolution.'
Videos Play Slow, Freezes, or Jumps
If you encounter jittery playback or videos are buffering, it is most likely caused by a weak internet connection. Try switching to a lower resolution by clicking on the "gear" icon in the bottom right of the video.
If the problem persists, talk with your IT department about getting a direct wired connection to your router.
Video / Audio Are Out of Sync
If the audio and video are coming out of sync, it might be a bug from Windows 10. Sometimes Windows 10 will randomly spike a program's CPU usage. You might not notice this during regular usage, but playing videos puts a high demand on your computer. Simply restart your computer and it should help resolve these spikes.
How to Speed Up / Slow Down Videos?
If you're using the default video (play button will be in the bottom left of the video), click on the gear icon in the bottom right and select "Speed".

If you're using the alternate video option, first start playing the video, and then pause. Click the gear icon in the bottom right and select your speed.
Why Are My Videos Blocked / Restricted?
Our videos are currently hosted on Vimeo, and may require some updates to your school or district firewall. For more detail on this reference our System Requirements.
If you still can't access the videos, we have an alternate video player. To access this alternate video, click on "Alternate Video" selector underneath each video.